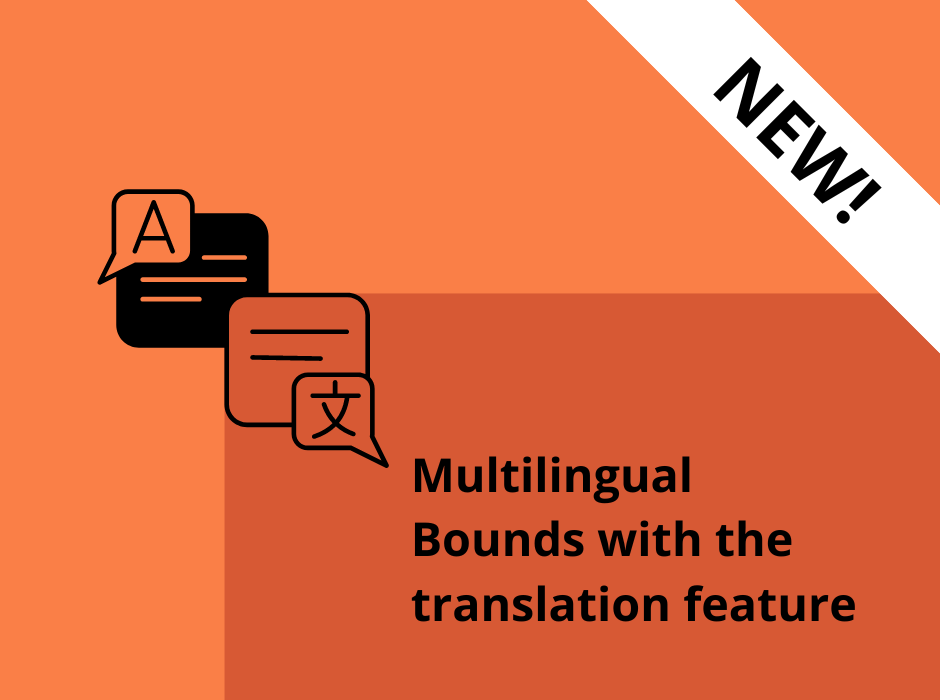 Wouldn't it be nice to have a Bound available in different languages without having several QR codes? Imagine creating a Bound in the Creator and then be asked for the language when starting the Bound in the app. Fortunately, this dream has now come true.
It's finally here, our new premium feature: the translation tool!
It has never been easier to edit and offer a Bound translated in different languages. Find out how it works here:
Our translation feature can be booked for a fee on request. If you are interested, simply contact our sales team. Once booked, you will find the premium feature on your Bound dashboard in the Settings section. Your translation feature will appear directly under the estimated Bound duration. Select a primary language and add as many translations as you like.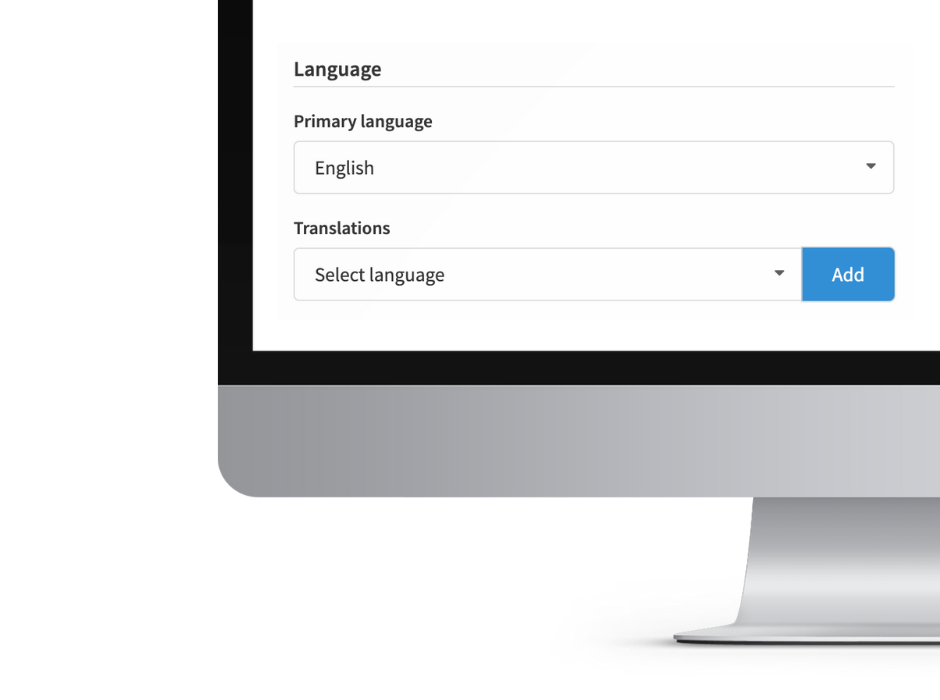 For example: You create a Bound in your usual language – let's say English – and want to offer it e.g. in Spanish as well. So your primary language would be English and you add another language. Simply select Spanish as desired language and click on Add. At the moment, you can choose from 21 languages in total.
After adding the translation the tool will open. On the left side you will see all your Bound elements in your chosen primary language. On the right-hand side, you can enter the translated texts of your elements and copy your media, if available.
When a field is filled in, the small red exclamation mark in the top right-hand corner disappears, the element is now translated and the translation is saved. If you want, you can also download all the elements in your primary language as an Excel list, translate them there and then simply upload them again. Two possibilities lead to the same result. Your media appears in square brackets, just like in the Bound Creator.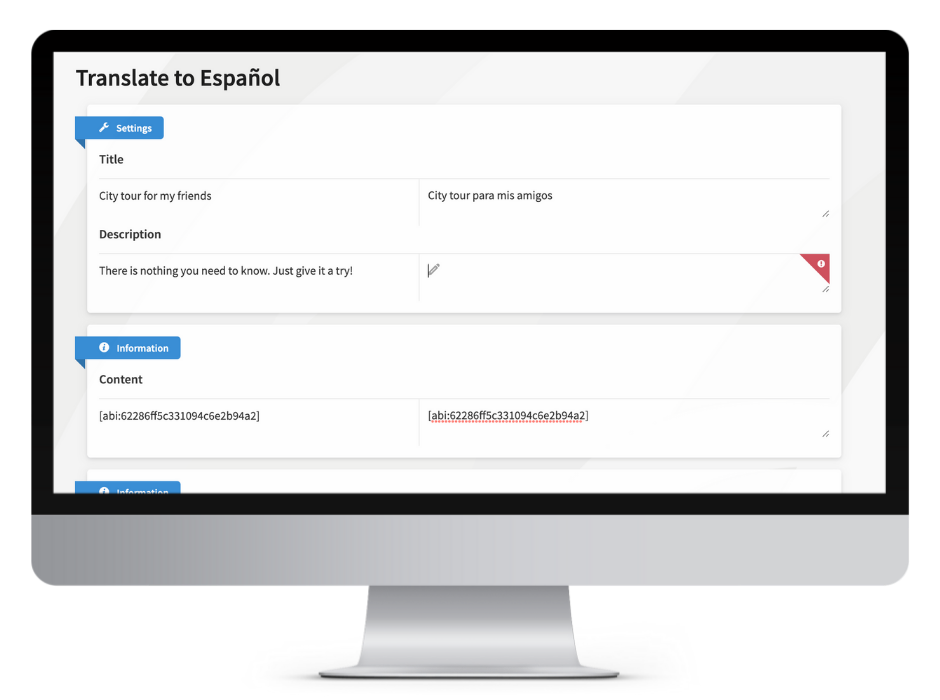 Another very convenient feature is that the Bound translations adapt to the app language (only available for default languages). For example, if the app language is set to Spanish and a Bound with a translation in Spanish is selected, it automatically suggests the Spanish version. You can also change the language again at this point. Nice!
Even more possibilities: Create several versions of your Bound at different levels of difficulty. Your primary language would be Easy and your additional languages would be Medium and Hard. At the beginning of the Bound, your players can choose which level they want to play.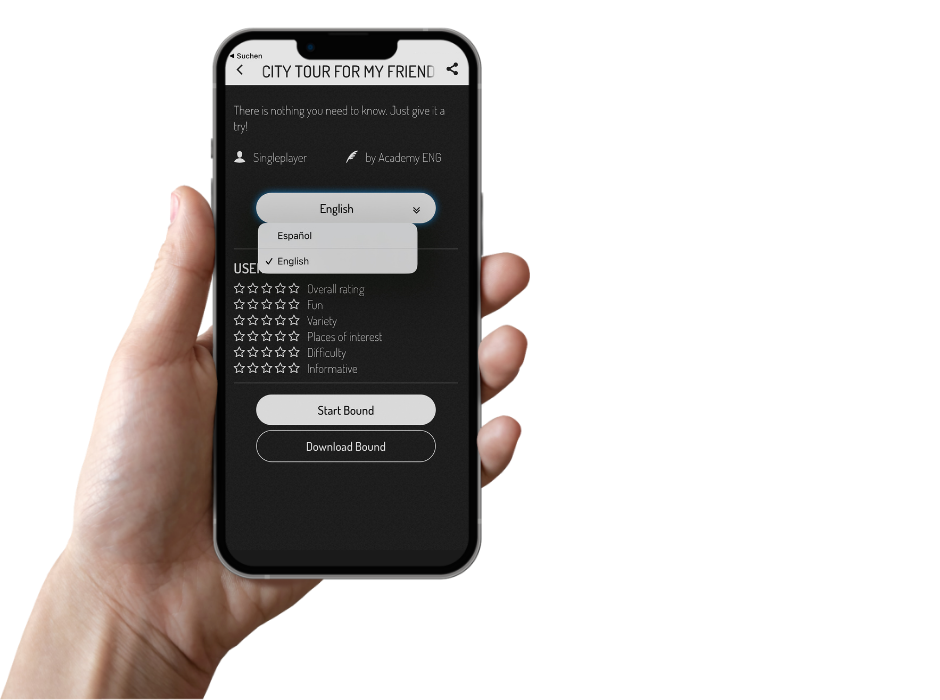 You want to offer your Bound in a language that is not available? No problem! You can also easily add a new language. So, how about a Bound in Elvish?
Do you have any questions about the translation feature and/or would you like to try it out? Just contact our sales team at sales@actionbound.com or call +49-30-12083317.
Have fun trying it out!